Daddy Daughter Day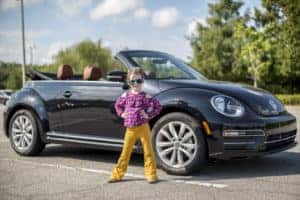 Around my house, there is a term that has become ritual. It is called, "Daddy Daughter Day." Daddy Daughter Day is that time where it is just my 5 year old daughter and myself. We go on trips, we go shopping and most of all, we have fun. We like to get out on the road in my own Volkswagen Beetle, also known as "Jerry the Super Beetle." But, on this particular Daddy Daughter Day, we took this awesome VW Beetle Classic Convertible out to the Soda City Comic Con in downtown Columbia, South Carolina.
This was an awesome day because we got to put the top down on the open road. She had her Crystal Blue Volkswagen Sunglasses on, and her favorite stuffed animal beside her and we set out to see the people that had dressed up as their favorite comic book heroes. When we were there, we immediately saw things that caught her eye. Things like stuffed animals, toys and comic books. As I tried to get her to through the crowds, we finally found something that really made her heart stop. It was an opportunity to get an airbrushed tattoo of  a horse on her forearm. She loves tattoos, but even more, she loves horses. She loves them so much that she re-named herself, "Rainbow Dash" about a year and a half ago. If you don't know, that is one of the characters on the show, "My Little Pony."
The rest of the day, she walked around the Convention Center with her sleeve up like a boss. Being that I am a photographer, that was too good of an opportunity to pass up. So, I took her around the rest of the day and took pictures of her with this Beetle. She had so much fun, but the funny thing came at the end of the day. My daughter has developed a personal relationship with my 2013 Beetle Turbo. When we got home, she asked me if Jerry, my Beetle Turbo, was mad at the fact that we drove another Beetle.
Kids make life something beautiful. That is the reason we do everything to protect our families. I have two Volkswagens at home that my wife and I drive everyday because we wanted our children to be safe when we go on trips. If safety matters to you and your family, come and take a test drive in any one of the 5 Star Safety Rated Volkswagens that we have on the lot today at Midlands VW. You won't be disappointed, and who knows. Maybe you will start a Daddy Daughter tradition of your own. 🙂